"Sudah bangun Gusti?" It was 4 AM and I sent a text message to Gusti Ayu to ask whether she was awake or not. "Sudah, saya sudah selesai mandi," she told me that she was awake and had just finished showering. A couple of minutes later, Indra and I hit the road heading to Ubud, Bali to pick up Gusti Ayu, the main character in Elemental Productions' The Bird Dancer, which documents her experience with Tourette's syndrome in a rural Balinese community.
The sky was still dark and the village was sleeping; only dogs barking on the street welcomed us when we parked the car near Gusti's place. In the darkness, all of the houses looked the same. After some searching, we finally found the right house. Gusti Ayu was in front of her door wearing a white t-shirt and a sarong, ready to pray.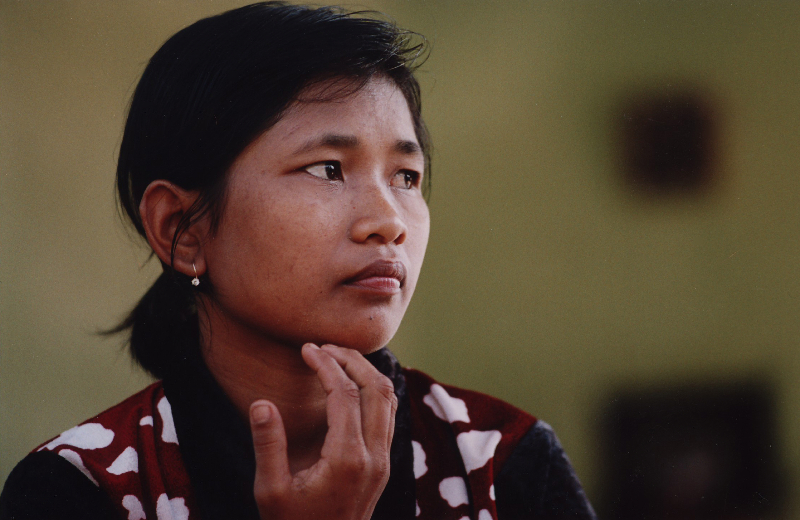 "Is it real or am I dreaming?" was the first sentence she uttered when she saw us coming (a question that she would repeatedly ask us on our way to the airport, when we were aboard the flight, in the cab, and at the hotel). She prayed, packed her stuff, locked the door, and we departed around 5 AM.
The airport wasn't a new place for Gusti as she used to come there to pick her ex-bosses up after their trips to Singapore or Malaysia. But to come as a passenger was another story; plus it had been a while since her last visit, the airport has changed a lot and she couldn't stop staring and adoring how different it is now. I could see how excited and nervous Gusti was—she couldn't stop saying how amazing it felt to be there and she couldn't believe where fate had brought her. She kept saying how grateful she was to be surrounded by kind and generous people like Dr. Robert Lemelson and his crew. Indra and I were also excited to try something new by visiting the capital city of Indonesia and attending a meeting in the most prestigious and popular university in the country. But besides from all of the excitement, we were also worried; not many people in Indonesia know about Tourette's syndrome and none of them will understand the ticks that Gusti has.
What we were worried about happened when a female flight attendant was serving food. Gusti spat on her twice and the flight attendant glared at us and gave a sour face. Fortunately, she didn't say anything. We decided to tell Gusti to cover her lips with a tissue to prevent the same thing from happening again.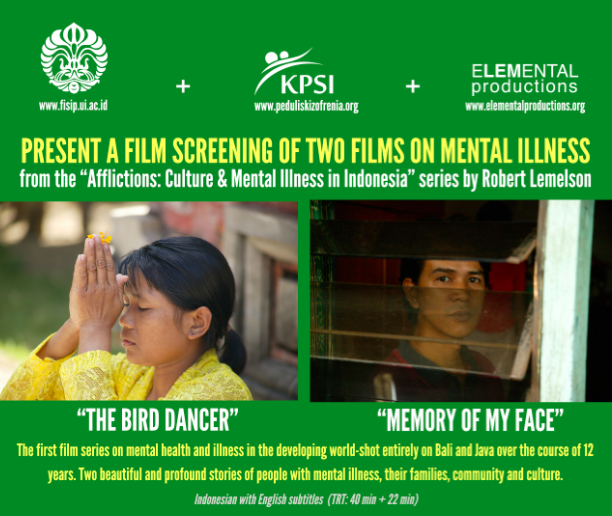 After we had arrived in a totally new land, we took our time enjoying the scenery on our way to the hotel. After a lazy morning at the hotel, we headed to the University of Indonesia. Mbak Erna and Mbak Wiwis welcomed us with a delicious meal of nasi rempah. Gusti was so amazed by the building. She told me that she was happy to be there—that even though she never went past elementary school, she still had the chance to be in a big university like UI. We met many people at the meeting: KPSI (Komunitas Peduli Skizofrenia Indonesi, a local organization which aims to change the perceptions surrounding mental illness in Indonesia), the head of the department, and many students who came to watch the films. Also there was Pak Bambang and his wife. Pak Bambang is the main character in another one of the films in the Afflictions series entitled Memory of My Face, which explores the "globalized" nature of Pak Bambang's schizoaffective disorder and recovery narrative. We talked with many people and didn't realize the auditorium was already full.
There were two things that amazed me during the Question and Answer session after the film screening. The first was seeing how confident Gusti was in answering questions—she even made a joke about how nobody is perfect except Sampoerna cigarette (a brand of Indonesian cigarette which means "perfect")—everybody was laughing and clapping when she said that. The second was the question that Gusti posed to the audience: "If you have eight eggs but one of them looks bad, but only on the outside—the inside is still good, what will you do to that egg? What can you do to save it?" At that point Indra and I agreed that Gusti had changed, we had never seen her as confident as that day. Almost two years working at Mitra Bali had influenced her positively. She wasn't scared anymore to speak her mind, even in a totally new environment.
On our way back from UI, I asked Gusti how she felt about the meeting and she told me how happy she was and how satisfied she was with the answers from the audience, "When I asked people in my neighborhood the same question, they immediately said that they would throw the egg away. It was clear to me how they feel towards me and others who look ugly or have a handicap." While some people took the question literally, others could see that the egg wasn't just an egg, but how Gusti sees herself. Those who understood the question gave her support and wishes, which she took as souvenirs that she would bring from Jakarta to Bali.
"I'm so proud that I was there. And I feel really grateful that Pak Rob has given me a once-in-a-lifetime chance to have such a great experience in Jakarta. It's a pity that I didn't have a chance to see Monas and Pasar Minggu, but still it is the happiest day of my life," said Gusti the night before we left Jakarta. I said, "One day you'll have a chance to visit those places, Gusti."
"Such an opportunity doesn't come twice, Sri," she said.
We never know when the chance will finally come but seeing the new Gusti at the meeting has given me optimism. With such confidence and happiness, I believe many good things will come to her in the future